The recent news that Bunnings was selling exercise equipment online was pretty damn exciting, but this might be even better.
The hardware chain also sells baking equipment — including mixing bowls, baking dishes and cake decorating accessories on its website.
Having spent many a Saturday wandering around the hallowed aisles of Bunnings, I've never come across the baking section. But, this is because all of the equipment is online-only, which is perfect for right now.
The baking equipment is being sold and delivered by third-party retailers in collaboration with Bunnings, so they'll be sent straight to your home.
Below are a handful of items Bunnings has to offer in the baking department. Head online to have a squiz for yourself!
Buying a new mixing bowl might not be on your list of priorities right now (and that's so fine!) but this sweet blush coloured bowl might change your mind. And, according to Bunnings, this baby is chip and scratch resistant as well as microwave and freezer safe.
Mason Cash Mixing Bowl, $34.95
Baking has skyrocketed since people have been staying home, with Woolies CEO Brad Banducci singling out cake mixes as one of the most popular items at the moment.
So, if you want to get in the kitchen with your kids, adding a few cookie cutters might make it more appealing. This heart-shaped cutter is super cute and just one of many different styles on the website. There's also a cactus, unicorn and dog-shaped cookie cutter, should that tickle your fancy.
D.Line Heart Cookie Cutter, $2.95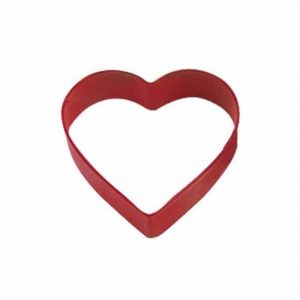 Ramekins are handy for serving, storing and baking single-serve dishes, like a delish chocolate pot dessert. While you can pick up a set of ramekins at most supermarkets or department stores, this duck egg blue coloured pair is more attractive than the average.
Chasseur La Cuisson Ramekin Set, $14.95
Spending your birthday (or your little one's birthday) in iso limits your options, but there are still ways to make it special. And, one way to do this might be with a novelty cake tin, which would be a big hit with kids.
This dinosaur cake tin is a great way to get your kids excited about baking, while also marking a special occasion. There's also a unicorn-shaped baking tin on the website too!
Daily Bake Cake Pan Tyrannosaurus Rex, $24.95
If you're firmly on the banana bread baking train, then this chic red loaf pan might be up your alley. Traditionally a baking dish used for terrines, this pan is also great for baking fresh bread, pound cake and meatloaf.
This one is made in France and can be used on any stovetop, including induction, and is oven-safe up to 220C.
Chasseur Terrine in Federation Red, $129.95
Happy baking!